We are pleased to read in the well-known French newspaper LE MONDE an article on SoulFetish. Thierry Martino tells us his story, his experience and his projects, you can find it on Le Monde website.
« The Jewelry is filled with the energy of its creator. »

– Thierry Martino.
After Moscow, Las Vegas, Paris, Tokyo or Los Angeles, it is in Geneva that the jewelry designer Thierry Martino opens his next shop on June 19th. He tells us about his path and about his SoulFetish label history which was created in 1999.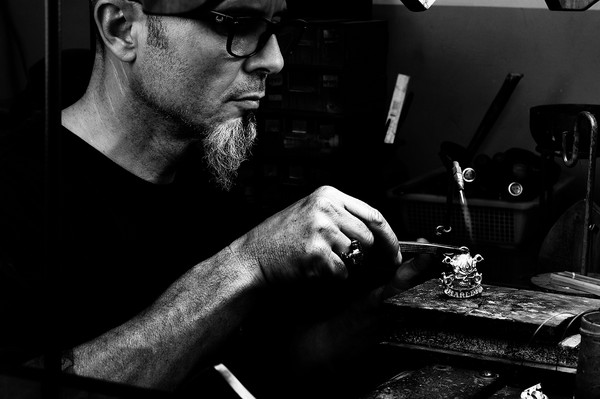 What is your background in jewelry design?
I was initially a salesperson and manager of Reminiscence shop. Zoé Coste taught me a lot and I owe her. In 1994, I started my own import company and I quickly learned that it'd be better to make my own jewelry. I then followed with a training course at the Saumur jewelry school to have good manufacturing basis. About design? I have learnt it alone by sculpting hundreds of waxes. And for the rest, I've learnt it on the job in fifteen years working in my workshop with my team making jewelry « rock chic » or « luxury biker ». I am particularly proud of having been chosen by Harley-Davidson® to design and manufacture their high-end jewelry line.
What made you want to create the SoulFetish label?
Emptiness! I dress in jeans and t-shirts and that for forty years now but I like to wear a nice ring, a nice bracelet. Twenty years ago, this didn't exist or all you could find was jewelry in « fair zippers ». I started making jewelry for myself and for my biker friends and Hossegor surfers. I wanted rock jewelry which represents who we are, but of good quality.
What role does Thailand play in your creative process?
In Asia, I started by learning patience and humility. I then found love and started a family. My wife, Ankhanang, already worked in fashion and television. Today, she is the one in charge of the SoulFetish women collection. Thailand possesses a great tradition in jewelry, through fine stones and especially Thai ability. Furthermore, all luxurious societies are established there. Sculpture work is also common. All you need is to visit the temples to realize it. Setting-up my workshop there allowed me to use this traditional savoir-faire for my creations. But at a time when all jewelry brands moved to 3D conception, we claim a 100 % handmade job on wax which is to me a way of preserving this know-how that tends to disappear.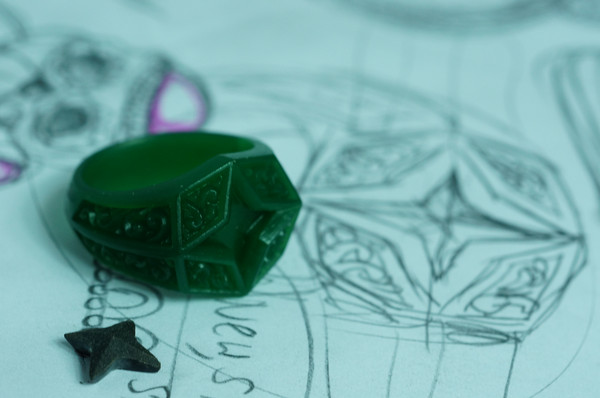 Where does your inspiration come from?
I'm not trying to be « fashionable », but rather create timeless models, classics. SoulFetish has been a continually developing project for fifteen years. It resembles my life story with my wanderings, my fantasies, especially a certain inner-search. I love travels and am quite eclectic in my taste. So I organized a collection of different themes, which go from my hidden vices and my rebellion to my spiritual search including sensuality.
Do you have a « fetish » material?
Silver is alive. It's the most beautiful of all metals. I love its lunar and cold reflections but it also knows how to be warm and tender if delicately polished. The onyx and its deep black invite me to introspection. It's hand-cut for each piece of jewelry. On another note, our shops are made of dark and precious wood, of white leather and red hangings. The three main colors of the alchemical Great Work in a way.
What are your next projects?
After Paris, Athens and Geneva, we'll be opening a fourth SoulFetish boutique in Innsbruck this September. We're not planning on stopping there of course and hope to see more shops a bit everywhere in Europe and the United States. Close to my heart is a more particular project: it would be to train young people in the art of handmade traditional jewelry within our workshops, and especially wax carving.
What advice would you give to a young designer who want to get into jewelry creation?
I have chosen to do what I love by opting for the quality and respect of the buyers. Jewelry is like the wizards' fetishes, they are filled with their creator's energy. Put it all in them… and they will also turn into SoulFetish.