Harley-Davidson® Jewelry has launched a new product to wear the bike transponder directly on your belt.
Laurent Martino our CEO explains how the new product was designed.
You can find more details about it on Freeway Magazine (December 2013)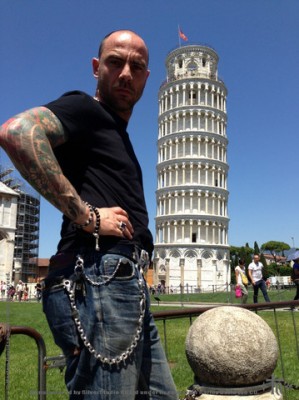 What is a transponder?
LM: The majority of the newest Harley-Davidson® bikes, including the 2014 sportster range, use a transponder instead of a key.
The transponder is a small black box you carry with you, and can be detected within one-meter radius of the bike control center. You are now ready, anytime, to turn the ignition module and get on the road to freedom
How the idea was born?
LM : Several months ago, I bought my first Harley-Davidson®, proudly wearing my slim fit jean bee gees, model 1977. The transponder was not well suited to my outfit!
Thierry & I set to work on the problem and we found a way to attach it to the belt and keep it secured, even in the event of a fall, with a security chain.
No more unsightly bulges in my pockets!
Can you give us more details about it?
LM : The body, security chain and snap hook are made with a special stainless steel SS316L
We have several models: Bar and shield or Willy G skull logo, plain, or with synthetic garnet, zirconium or onyx.
Based on the positive feedback our clients gave us during the 110th anniversary of European HD celebration in Roma we can confirm that our product is efficient and really comfortable.
You can find the FOB on our online catalog at  : http://harley-davidson.thierrymartino.com/stainless/others