Designed and crafted by bikers for bikers
_______________________
Every year, Thierry Martino designs and creates a new collection in homage to Harley-Davidson®. Each new piece is made in honor of the H-D® legend and out of pride for the biker lifestyle, lovers of the beauties of Milwaukee. Thierry Martino grew up in the South of France, at a time when Japanese motorcycles dominated the market, and having a Harley® motorcycle made one stand out in the crowd, which did not displease Thierry. The long haired roughs of the 70's and their noisy engines nourished this suburban child's dreams of reckless freedom.
_______________________
– "Each new piece is made in honor of the H-D® legend and out of pride for the biker lifestyle."
_______________________
The late 80's gives introduction to the very first Harley® motorcycle, a 1200 Sportster® model, the first in a long series.In 1999, Thierry Martino creates the SoulFetish® brand and begins carving the first of his silver rings for himself and his biker friends. So, when in 2008 the «Motor Company» suggested he create jewelry for Harley-Davidson®, it was naturally the most gratifying day of his professional life. «Each collection is a renewed gesture in honor of the Harley® legend. It is always with pride that I represent through my jewelry the Harley-Davidson® motorcycle riders, a fraternity thirsting for freedom».
_______________________
__________________________________________________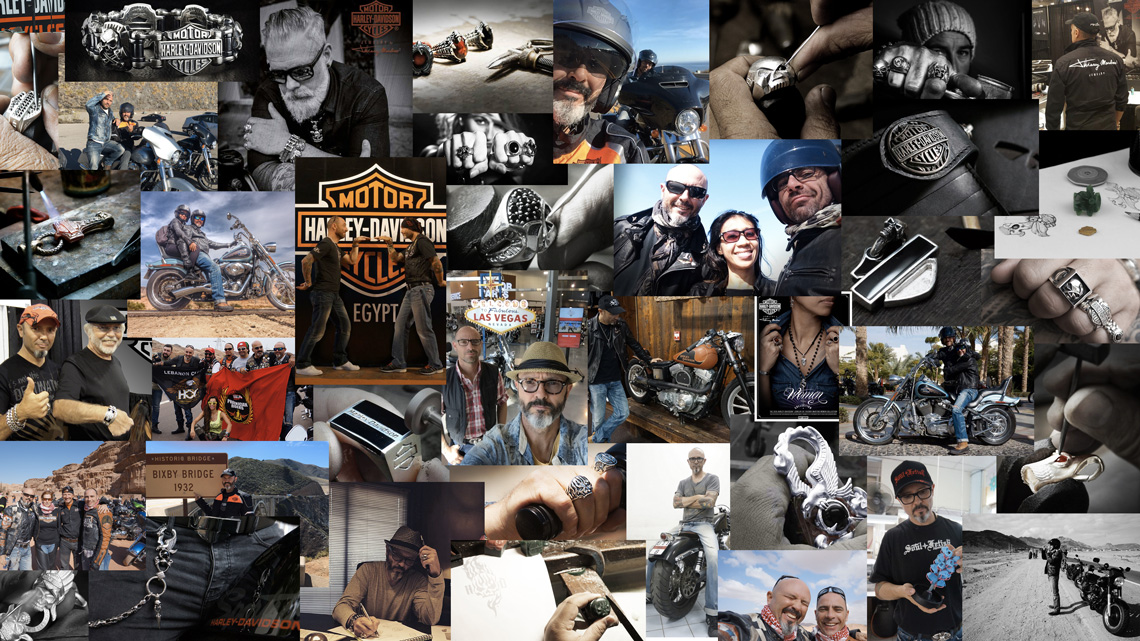 _______________________
All Jewelry by Thierry Martino® was designed and crafted by bikers for bikers at SilverStudio Co., Ltd. Martino maintains a close eye over the entire artistic and metallurgical handmade process to ensure that all pieces of jewelry meet his high quality standard. Crafted from the finest raw materials available: it is casted using the latest technology, assembled and polished by hand and made of 94% sterling silver and 6% of special anti-tarnish fine alloy (Nickel free). Each piece is guaranteed for life against defects in materials or workmanship.
_______________________
– "Casted using the latest technology, assembled and polished by hand and made of 94% sterling silver."
_______________________
This warranty is void if the article of jewelry has been damaged by accident, negligence, unauthorized service or other factors not due to defects in materials or workmanship. If your product do not conform to his guarantee, SilverStudio shall repair or replace the defective products (contact your local dealer or ). Lifetime garantee does not cover damage due to normal wear and tear or abuse as determined by SilverStudio Co., Ltd. Silver plating jewelry is one year guaranty. More details on our website

www.soulfetish.com
_______________________
See the latest creations: HERE
*H-D Dealers click HERE to Login/Register
_______________________
Catalogues:
_______________________
_______________________________________________________________